Fashion designer has new website all sewn up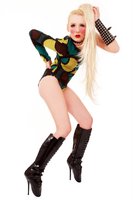 An exciting new fashion outlet has been launched that brings together the work of individual designers from the UK and beyond into one convenient online location.
The brainchild of Worcester-based fashion designer, Michele Turner, fashionkillerz.com features unique clothing, jewellery and fashion accessories all created by talented people who have a real passion for what they do.
Currently available is a range of stunning swimwear and club wear from Dancing Dolls, funky womens wear by Sene Couture and beautiful evening wear by Allude Designs as well as luxurious ladies dresses from Anya Wilkinson, Angy Morton and Diane Spinks. There is a selection of menswear as well as pretty dresses from Tamara Joseph which feature prints of her own photographs; jewellery by Kitty Kavanagh, Aura Jewellery and A Alicia Accessories; and a fantastic range of contemporary knitted headwear and accessories by Jools Elphick.
The site also includes handmade bags from Jilly Lycourinou and knitted accessories from Woolmint and these are in addition to Michele's own Mosquito Head UK womens wear label and a range of other items. Coming soon is a range of men's one-off trousers and jogging bottoms by Copycat Clothing.
Michele said: "I've been designing and making clothes for many years but only recently decided to try and turn my hobby into a business. As I design and make each garment from scratch, I don't have the capacity to make enough products to warrant my own website and was struggling to find a suitable outlet for my garments. Then I came up with the idea for Fashion Killerz.
"The site offers a great platform for designers, catering for all tastes and budgets, to showcase and sell their products on an international scale but, more importantly, it offers customers a one-stop shop where they can browse and buy unique and original items - many of which are one-off creations. So no more worrying that you will bump into someone wearing the same outfit as you!"
New sellers are regularly signing up and adding new products to the site which always welcomes new talent. If you have something new and fresh to offer the fashion world, just visit the site for further details on how to get involved.