Citroen Berlingo goes up in the world with AFI-Uplift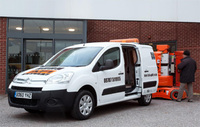 Citroen Berlingo Enterprise vans are now being bought by AFI-Uplift as part of a move to further reduce the carbon footprint of its service van fleet. Environmentally aware AFI-Uplift, one of the UK's leading powered access rental companies, is progressively reducing the size of the vans used by its service engineers to reduce CO2 emissions and further improve fuel economy.
Wakefield-based AFI-Uplift has recently taken delivery of 22 Citroen Berlingo Enterprise HDi 90 vans and plans to replace the remainder of its 30+ service van fleet by the second quarter of 2011. All the vans have been supplied by Citroen Coventry, the UK's largest Citroen dealer.
Nick Higgins, AFI-Uplift's Operations Director, explains: "We have been very pleased with our Citroen Dispatch vans. Now, in-line with the company's process of continuous improvement, we have specified Berlingo vans for use by our skilled service engineers to provide further environmental and fuel efficiency gains. The use of the Berlingo's standard Trafficmaster Smartnav satellite navigation system will also provide further efficiency gains by making it easier for our service engineers to get to sites."

In addition to the comprehensive specification of the range-topping Berlingo Enterprise, which includes air conditioning, Bluetooth, USB connectivity and rear parking sensors, AFI-Uplift has specified ply-lining, alarms, full steel bulkheads and roof mounted light bars. Based throughout AFI-Uplift's 18 strong UK depot network, the Berlingo Enterprise vans are expected to have a three year/100,000 mile service life.
AFI-Uplift has a hire fleet of over 4,000 pieces of powered access equipment including some of the largest available in the UK, which can reach heights of up to140ft. The company is one of the first of its type in the UK to have gained both the ISO 14001 environmental management standard and the OHSAS 18001 occupational health and safety standard to add to its ISO 9001 certification. The company also has a training operation both for its own and other companies' staff, and has an established apprenticeship scheme.