Ford Ranger on display at CV show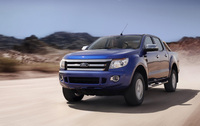 The all-new Ford Ranger will draw Commercial Vehicle Show visitors to the Ford stand at the NEC, Birmingham (Hall 4, stand 4C20, 12-14 April). The stunning new Ford Ranger has exceptional towing capability and Smart technologies including Adaptive Load Control, Trailer Sway Control, Voice Control and the segment's first rear-view camera system.
Steve Clary, commercial vehicles director, Ford of Britain, said: "With the CV Show reverting to its traditional format this year, we are delighted to be in attendance and supporting the message of innovation and development in road transport. We will be exhibiting a comprehensive range of our existing vehicles and some of our exciting future models. The show presents a fantastic opportunity for us to meet with many important customers.
"Despite the recent economic turbulence, Ford has continued to heavily invest in exciting and technologically advanced vehicles for the CV industry."
Ford Ranger
The new Ford Ranger will be on sale around November this year and available in three different cab body styles, 4x2 and 4x4 drivetrains, two ride heights and four series choices. With an all-new chassis frame, front and rear suspension and steering system, Ranger delivers outstanding towing capability of 3,300kg, up 300kg on the current model.
New Ranger is powered by a choice of two new fuel-efficient state-of-the-art common rail Ford Duratorq TDCi diesels and new fuel-efficient six-speed automatic and manual transmissions:
A new Dagenham-built 2.2-litre Ford Duratorq TDCi I4 diesel engine with peak torque of 375Nm and power output of 110kW (150PS). This is a global engine that will also appear in Transit Stage V models
A highly responsive and efficient new 3.2-litre, Ford Duratorq TDCi I5 diesel engine with 470Nm of torque and power rated at 147kW (200PS)
Pricing will be announced nearer to launch.
Transit Stage V
Every Transit will have Stage V engines as standard later this year. The aim is to give customers improved fuel economy and lower emissions. Stage V engines include a Diesel Particulate Filter (DPF) with vaporiser technology that collects over 95 per cent of all engine soot emissions.
When the DPF is full, the new vaporiser technology heats the DPF to 600oC to turn all the soot into CO2 and water in a process known as a regeneration cycle. The new vaporiser increases the system's efficiency and reduces emissions compared to normal cDPFs.
Additionally, all Stage V engines will now have a Variable Nozzle Turbo (VNT) that boosts low end torque, improves driveability and also reduces emissions.
Transit Connect Electric
The Ford Transit Connect Electric is a zero-emission, electric-powered version of the award-winning Transit Connect light commercial vehicle and goes on sale in the UK this summer.
Transit Connect Electric features a state-of-the-art lithium ion battery pack with a capacity of 28kWh and a chassis-mounted 55kW electric traction induction motor. With a range of up to 80 miles, it has a top speed of 75mph. The Transit Connect Electric's lithium-ion battery pack is charged via a standard power outlet – an onboard converter then charges the battery pack. Fully charging the batteries takes under 10 hours using a household 230 volt supply.
Developed in conjunction with Ford's US-based electric vehicles partner Azure Dynamics, it has a proprietary Force Drive battery electric drive train powered by an advanced battery pack. Transit Connect Electric will offer operators the opportunity to eliminate fuel bills in their small vans and help to lower overall running costs. With a cargo volume of 3.8 m3 and a payload of 410kg, Transit Connect Electric will particularly appeal to operators who travel predictable, short-range routes with frequent stop and go driving.
'Glider' units – complete vehicles except for the powertrain – will be shipped from the Ford Otosan manufacturing facility in Kocaeli, Turkey, directly to an Azure-contracted manufacturing location in Europe for final assembly. The completed van will then be sold by Azure Dynamics through a specially-created network of dealerships.
Ford has committed to introduce five full-electric and hybrid models in Europe by 2013 as part of its global electrification strategy. In addition to Transit Connect Electric, the company will launch the next-generation Ford Focus Electric in 2012, followed by hybrid and plug-in hybrid derivatives of the all-new C-MAX and another hybrid-electric model in 2013.
Ford of Britain centenary year
On 8 March 1911, Ford Motor Company (England) Limited was incorporated to look after the most important market outside North America. Later the same year, Trafford Park, a suburb of Manchester, played host to Ford's first UK factory with a disused tram works converted to Ford Model T assembly opening in October.
Today, Ford has led UK car sales for 34 consecutive years and the best-selling Ford Transit helped Ford lead commercial vehicle sales for 45 consecutive years. In 2011 Ford will launch the new Ford Focus, another global car in the spirit of the Ford Model T.
Football fun
Visitors to the Ford stand can take a break with free waffles and coffee and enter its UEFA Champions League football game. Being a hot shot on the Ford UEFA Champions League football game means visitors get entered into a draw to win a pair of tickets to the UEFA Champions League final at Wembley in May this year.