Emirates set to take first A380 to Kuwait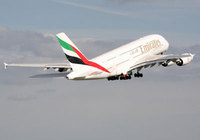 Emirates will operate the first ever A380 service into Kuwait this month, in honour of the country's National Day.
Operating into Kuwait National Airport, on 26th February, the one-off Emirates A380 service will be the world's first superjumbo to touch down in Kuwait, a significant milestone for Emirates and its operations in Kuwait.
"Kuwait will celebrate its 50th National Day on the 25th February and to honour this historic occasion we will operate our award-winning A380 aircraft into Kuwait International Airport," said Ahmed Khoory, Emirates' Senior Vice President Commercial Operations Gulf, Middle East and Iran.
"Our customers in Kuwait are eager to try our A380 services and we have worked closely with the Kuwaiti authorities to make this possible. We have operated services into Kuwait since 1989 and although we have no immediate plans to operate an A380 on the route permanently, we remain committed to providing customers in Kuwait with convenient flight and onward connection times through our Dubai hub," said Khoory.
Emirates flight EK857 will depart Dubai at 14:55 on 26th February and will arrive in Kuwait at 15:40 the same day. The return flight, EK858, will depart Kuwait on 26th February at 18:10 arriving in Dubai at 20:40 the same day. The mammoth aircraft can accommodate 489 passengers with 399 in Economy Class, 76 in Business Class and 14 in First Class.
Kuwait Airport is well equipped to handle the colossal A380 with their new terminal A380 operational since November last year.
The flight will operate as a regular commercial flight and tickets to travel on the flight can be booked through: emirates.com
"This will be an exciting moment for Emirates and Kuwait and we are confident that the operation of the A380 into Kuwait will be well received by all including the many plane spotters jostling to get a good view as it comes to land," added Khoory.
Emirates currently has 15 A380's in it's fleet operating to 12 destinations including; London Heathrow, Paris, Seoul, Hong Kong, Sydney, Auckland, Toronto, Manchester, New York, Jeddah, Bangkok and Beijing. A further 75 A380's are on order.
Emirates currently operates four daily flights into Kuwait serviced by a mixture of Boeing 777 and Airbus A330 aircraft in three class configurations.