Iran's historic agreement set to boost tourism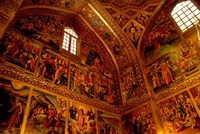 The agreement reached this week regarding Iran's nuclear activities is further evidence that the country is cementing relations with the west, which can only be good news for boosting tourism to a country that is bountiful in historic and architectural riches.
David McGuinness, director of independent tour operator Travel The Unknown, and frequent visitor to Iran, comments: "Iran is currently one of our most popular destinations and the agreement announced this week is sure to boost interest in the country from discerning travellers.
"The political situation under Ahmadinejad was not favourable to tourism but the country is slowly moving on, and more and more people are starting to discover its unique hospitality and its vast wealth of historical and natural delights.
"Formerly known as Persia, Iran is littered with a diverse, eye-catching array of ancient temples and artworks, mosques, fortresses, and striking monuments, each of which reflects its own intriguing history. And the Iranian people are the real star of the country - so warm, so friendly, so gracious; sometimes it is hard to believe it is real."
Travel The Unknown offers a choice of three different group trips to Iran as well as preparing tailor-made itineraries (all of which include visas to Iran):
Classical Iran (14 days from £2895 pp). Highlights of the two week trip include Persia's ancient capital, Persepolis, the ancient mosques and palaces of Isfahan, the Zoroastrian heritage of Yazd, the Khans and gardens of Shiraz and Kashan, the stunning mud-brick village of Kharanagh and the national museum of Iran in Tehran. Next trip departs on 26 September and 24 October.
The Glories of Persia (16 days from £3295 pp). Highlights include Persepolis, the ancient site of Susa, the Classical glory of Hamadan, the ancient rock-carvings at Tagh e Bostan, the poetic city of Shiraz, the Towers of Silence in mud-brick Yazd plus visits to several archaeological museums. Next trip departs 12 September and 8 October.
Troglodytes & Assassins (14 days from £2795 pp). Highlights include a climb up to dramatic Babak castle, Tabriz's UNESCO heritage listed bazaar, the sacred Throne of Solomon, the valley of the Assassins and the Troglodyte caves of Kandovan. The next trip departs on 10 October.
All three trips include visa, international flights, all transportation, accommodation in good hotels, some meals (depending on itinerary), entrance fees to sites, parks and museums and English-speaking escorted guides.
For more information, visit traveltheunknown.com/iran.