Corinthian Travel expects return of Iran Tourism by 2014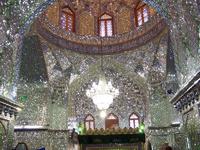 Hugh Fraser, Managing Director of North Africa and Middle East specialist Corinthian Travel is optimistic that tourism will return to Iran before the end of 2014.
Comments Fraser: "After 34 years the west may be on the cusp of a new and historic era in its relationship with Iran; both sides appear to be eager to broker a deal that addresses the vexed nuclear issue 'within months'.
"Provided that the talks succeed, and a resumption of normalised diplomatic and trade relations follows, it is possible that we may see tourism returning to Iran as early as the autumn of next year."

Western Tourism to Iran came virtually to an end in 1979 with the onset of the Islamic Revolution and, over the past thirty four years, only a trickle of western visitors have seen Iran's stunning cultural treasures (and even this trickle dwindled to almost zero in the last two years as a result of sanctions, and government travel advisories).
Iran's stunning UNESCO World Heritage Sites and cultural treasures now lie almost completely free from visitors, yet until the fall of the Shah in 1979, the country was a major destination on the map of the western traveller.
The prospect of discovering the great ruins of ancient Persia (including the magnificent palace of Persepolis), gazing on the exquisitely tiled mosques and monuments of the Safavids in Isfahan (considered to be amongst the finest in the Islamic world), discovering the 'paradise' of Shiraz and Kashan's Persian gardens; and journeying through the landscape that so inspired the great poets Hafez, Saadi and Rumi – once made the lure of Iran almost irresistible to the cultural traveller.
Corinthian Travel is a specialist in luxury tailor-made travel to the Middle East and has extensive contacts in Iran.
For more information, visit corinthiantravel.co.uk.
Corinthian Travel offers recommended tours and tailor-made itineraries to holidays in Oman, the U.A.E, Jordan, Tunisia, Lebanon and Egypt with dedicated expert guides, the finest hotels, and private sightseeing.