Canine rescue centre wins Petplan charity prize draw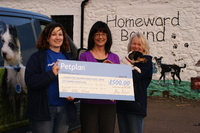 The Dumfries & Galloway Canine Rescue has won a valuable donation of £500 from the UK's favourite pet insurance provider, Petplan, for the second time after being the first ever charity to win this donation six years ago.
The Dumfries and Galloway Canine Rescue Centre was set up in 2003, to help rescue, care and re-home stray, maltreated, and unwanted dogs.
"We are absolutely delighted to have been awarded this cheque by Petplan. We just can't believe that we've won this donation for the second time," says Fiona Brightly, Manager of the rescue home. "It was incredible to win the first ever cheque, when this scheme started several years ago, but to win it again is just unbelievable."
She continued, "The money could not have come at a timelier occasion, and will help us purchase a drying unit which will help us take care of the more nervous dogs we care for."
Petplan works with more re-homing charities than any other insurer to help fund the care of thousands of homeless cats and dogs. The company offers a cover note for four weeks free insurance to every owner adopting pets through the shelters it supports and also provides a free insurance voucher to visitors and supporters of the charities. Each month a prize draw is held from all the vouchers and cover notes issued and one charity benefits from the prize fund.
Alison Andrew, Marketing Manager for Petplan says, "It's great that we're able to continue to support the charities we work with and make a donation to The Dumfries & Galloway Canine Rescue again."
"We understand what a difficult time it can be re-homing a cat or dog and are glad to offer this extra peace of mind during the first few weeks of the animal's life in a new environment. Having your pet insured is an important part of taking care of its future health and it also helps you to contain any unforeseen veterinary costs."
Petplan is committed to aiding the valuable work that re-homing shelters do. Charities such as Battersea, Cats Protection, Blue Cross and Dogs Trust are just a few of those that have benefited.