Fitness First make A1 decision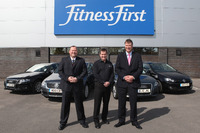 Managers at Fitness First's head office in Poole, have become one of the first companies to add the new Audi A1 to their company car scheme. The new Audi A1 has only been on the road for a few months, but has made a great impression on the staff at Fitness First.

Andy Neilson, Group Purchasing manager of Fitness First says, "We want our staff to feel happy and motivated working for us. By teaming up with Poole Audi, we not only support local business, but also give our employees a chance to drive the latest must-have car".

"The car's green credentials were a big factor for us too. The Audi A1 has class leading CO2 emissions of only 105g/km, and returns 70mpg combined making it the perfect choice for our fleet."

The Audi A1, released in November, has already scooped two awards this year. What Car? Magazine has named the A1, Supermini of the Year and bestowed it the highly acclaimed Car of the Year Award.

Steve Russell of Poole Audi states, "The new Audi A1 is such an exciting model for us. It is a new market for Audi too, offering new opportunities and a new premium edge to the supermini market"

Fitness First plan to take on 190 new vehicles in the next four years, from Poole based companies Breeze Volkswagen and Poole Audi.