Chance to win all expenses paid holiday to Memphis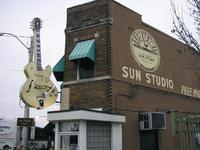 Everyone attending the Elvis Festival at the 5 Star Vauxhall Holiday Park this September will have the chance to win an all expenses paid trip for two to visit The King's home in Graceland and his birthplace of Tupelo worth nearly £3,000!
It's a free to enter competition and the winners can look forward to joining the 'Elvis Birthday Tour' in January when the Elvis Estate puts on lots of activities and Graceland is still bedecked in magical Christmas lights.
Included are return flights to Memphis, six nights on a bed & breakfast basis at the 'Heartbreak Hotel,' full days sightseeing tour of Memphis - including a visit to Sun Studios where Rock'n'Roll was born and a trip to his birthplace of Tupelo. The prize is courtesy of The Elvis Travel Service.
The festival take place between 10-17 September at the Vauxhall Holiday Park in Great Yarmouth and will include a number of live acts as well as the opportunity to watch plenty of footage of Elvis performing and listen to his music.
For full details visit: vauxhall-holiday-park.co.uk