Couple ditch DIY in favour of new home in Malton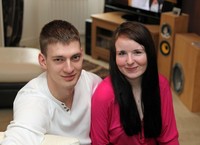 Easy to manage and efficient to run, new Redrow homes in Norton, near Malton, are ideal for families and an affordable alternative to renting, as Wilson Fisher and partner Frankie discovered.
They've just bought a new home at Priorpot Mews and used the government backed HomeBuy Direct scheme to make it more affordable.
"We were renting a small two-bedroom house that needed work doing to it and realised that for the money we were paying on rent we could buy somewhere of our own instead. Thanks to HomeBuy Direct we were able to get a lot more for our money than when we were renting," Wilson explained.
Available on selected properties at Priorpot Mews, HomeBuy Direct is designed to help make homeownership more affordable by providing an equity loan for up to 30% of the purchase price.
The valuable assistance means Wilson and Frankie's mortgage repayments for their three-bedroom home with garage are just £25 a month more than the rent for their old two-bedroom property.
"I'm quite practical but because we're expecting a baby we wanted a brand new house so we wouldn't have to worry about repairs. If we had bought an older property and there was a structural problem we would have to pay for any work, but with a new home we have the peace of mind of a 10-year 'Buildmark' warranty. The built-in kitchen appliances are really convenient, plus they're covered by a two-year warranty," Wilson added.
"It's simply a great house. You can tell that it hasn't just been thrown together as there's lots of attention to detail such as the bathroom tiles that go to the top of the wall. Even the door hinges are good quality. It's all the little things that make a difference. It's also more efficient to run than our old home, which means it's cheaper to keep warm in the winter."

With HomeBuy Direct, eligible purchasers could snap up a three-bedroom 'Fairwood', on the market at £153,999, for an initial outlay of just £107,799.
Customers can pay the outstanding balance when they have more funds available or when they come to resell; and the loan is interest free for five years.
HomeBuy Direct is open to purchasers who have an annual household income less than £60,000, including first time buyers, those re-entering the property market following a change in circumstances such as divorce or the breakdown of a relationship and potentially families needing room to grow.
"HomeBuy Direct was great for us as a young couple as it helped us step onto the property ladder with just a 70% mortgage. I've already recommended Redrow to my colleagues," Wilson commented.
An easy to follow video guide to HomeBuy Direct is available to view online at: redrow.co.uk