Jessica Farringdon Brides launches 2012 collection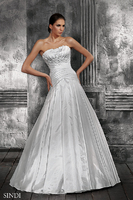 Bridalwear specialist Jessica Farringdon Brides has officially launched its new 2012 collection.
The company, which has showrooms in Leicester, Cambridge and Derby, launched the range at The National Wedding Show at the NEC, where two of the designs were chosen by the organisers to appear as part of the event's acclaimed Catwalk Show.
The new collection features 30 elegant designs, which incorporate the use of lightweight fabrics such as chiffon, silk and satin. Brides-to-be can chose from varying styles, including Grecian, ball gown and mermaid, as well as a selection of colours, such as classic white, ivory, champagne, cream and even red.
With prices ranging from £799 - £3,000, the range was designed in conjunction with Jessica Farringdon Brides' European partner Emmi Mariage.
A key feature of the new collection is the use of a detachable train. A number of the designs feature a classic and luxurious cathedral train, which will create a real 'wow factor' at the ceremony, but can be unzipped during the reception to create a more practical garment.
"Our new collection has been created following extensive consultation with brides-to-be from across the country, at both exhibitions and in our showrooms" commented Ketan Jethwa, creative director of Jessica Farringdon Brides.
"Many of them spoke of the balance between practicality and luxury. Your wedding day can be one of the most memorable days of your life, and the brides-to-be were keen to look as elegant and glamorous as possible, without spending the day in an uncomfortable garment.
"This is why we opted for a range created from lightweight fabric, with many of the dresses featuring a detachable train, creating the comfort and practicality needed, but without compromising the overall design."
Jessica Farringdon Brides is the bridalwear arm of Tailoring UK, the sixth generation bespoke tailoring business of the Jethwa family.
For more information on the 2012 collection from Jessica Farringdon Brides, visit: jessicafarringdon.co.uk