More luxury accommodation options in Mauritius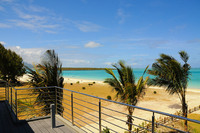 Leading villa rental specialist Villas De Maitre has expanded its presence in Mauritius with additional superbly appointed privately owned luxury apartments and penthouses for rental overlooking the beautiful turquoise ocean.
Cape Point Apartments – Cap Malheureux (north coast Mauritius)
villasdemaitre.com/hotelinfo.asp?SupplierID=1662
Cape Point Apartments of Cap Malheureux, on the North coast of the island. Four 3 bedroom apartments and the second floor penthouse (250m2) offer a high level of comfort and their covered terraces offer stunning views over the lagoon with the small outer island of Coin de Mire as backdrop. In the garden is a swimming pool with a large wooden decking area, a bar pool, parasols and sun loungers. Cape Point is located in the exclusive and quiet area of Cap Malheureux and is only five minutes away from the bustling resort of Grand Bay with its array of small restaurants, supermarkets, cafés, banks and chic boutiques of Sunset Boulevard.
All properties have soft-tone luxurious furnishings, quality linens, WIFI, flat Screen LDC TV in Lounge & all Bedrooms, satellite TV & music channels, DVD with library and IPOD music system, 24/7 security with video surveillance and individual alarm in each apartment & penthouse connected to the security gate.
Paradise Beach – Pointe d'Esny (south coast Mauritius)
villasdemaitre.com/hotelinfo.asp?SupplierID=1527
Paradise Beach are luxury beachfront apartments of 3 bedrooms and a penthouse of 4 bedrooms situated on the powder white beach at Pointe D'Esny, in the South East of Mauritius. There are 8 x 3 bedroom all ensuite apartments and 2 large penthouses with ensuite bathrooms. Pointe d'Esny is a select, largely residential beach neighbourhood, which is a short distance from the town of Mahébourg which provides for a touch of local authenticity and a window onto typical island life.
Amenities at Paradise beach include a large magnesium treated swimming pool and spacious, protected pool area, bicycles and kayaks for free use, beach gazebo, daily housekeeping and an on-site manager.
Bon Azur – Trou Aux Biches (north coast Mauritius)
villasdemaitre.com/hotelinfo.asp?SupplierID=1748
Situated along the fabulous coastline of Trou-aux-Biches, these prestigious serviced suites and penthouses are ideal for guests looking for top Mauritius beachfront villas or ultra private apartments right on the beach. This particular part of the island is renowned for its quaint fishing village, stylish seafood restaurants, sandy beaches and tranquil lagoons.
Bon Azur offers guests the choice of 10 holiday Premium Elegant Suites & 2 Penthouses. Each Premium Elegant Suite & Penthouse has been tastefully designed with a fully-equipped kitchen, spacious bedrooms with en-suite bathrooms and a spacious living area that opens onto a veranda with a magnificent sea view.
Leora – Tamarin-Black River (west coast Mauritius)
Opening in September 2011 the first luxury apartments for rental on the west coast
Leora Beachfront Apartments are in a stunning location with amazing sea views and private access to the sea within a stylish setting. There are 12 apartments and 2 penthouses of 3 bedrooms each set in four stylish blocks. Nearby are top-rated golf courses, sports clubs and commercial centres with shops and restaurants.
The opening of such apartments in other seaside locations is a welcome addition to what the island offers as they offer privacy, style and service required by many clients coming to Mauritius on business or for an extended stay. It is also ideal for families, groups of friends and small corporate groups looking for an alternative to the luxury resorts.
For more information and reservations, visit: villasdemaitre.com