'Spectacular!' new season for Citroen on the Champs Elysées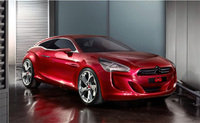 Citroen's international showcase, C_42 on the Champs Elysées, has launched a vibrant spring season entitled 'Spectacular!'
As well as building a reputation for technical expertise, Citroen has always cultivated a bold and creative approach to publicising its activities. In this new exhibition, C_42 plays host to some of the most striking examples of Citroen's communication and promotional campaigns from the past and present. From the legendary Croisière Jaune expedition to iconic TV adverts, Citroen toys, marketing materials and memorabilia that have helped define Citroen's place in popular European culture.
The brand's latest creation, Citroen DS4, takes centre stage in the exhibition, which opened its doors earlier this week. The unique high-stance five-door coupé illustrates innovation in styling, automotive architecture and sophistication, demonstrated with a 3D preview of the new TV advert for the model.
The contemporary theme continues with GQbyCITROEN: the result of a partnership with leading men's magazine GQ to design the ultimate contemporary gentleman's drive.
John Lennon and Marilyn Monroe feature, as part of Citroen's DS3 launch advertising campaign. The C3 'swing' and celebrated C4 robot dancer adverts are also being shown, representing the brand's tradition of acclaimed TV promotional activity.
Elsewhere, the all-new DS3 WRC World Rally Championship contender, which recently claimed its debut victory at Rally Mexico, meets a trail-blazing forebear in the form of a half-track Citroen truck. In 1931-32 this indomitable vehicle was filmed for the celebrated documentary "La Croisière Jaune"("The Yellow Journey") - the record of an epic 12,000 km motor trip from Beirut to China.
Citroen has also featured in many classic films and TV series, including 'The Day of the Jackal' (1973) and the 007 adventure 'For Your Eyes Only' (1981). On display is a Citroen DS 21 Pallas, identical to the car driven by Patrick Jane, hero of the US detective series 'The Mentalist', which will be given away to a competition winner on 18 March.
Citroen's toys and games are also represented, from André Citroen's celebrated Citroenette pedal car of the 1920s through to the present day simulator of the GTbyCITROEN concept car from the renowned GranTurismo 5 game.