B&Bs on the increase in West Virginia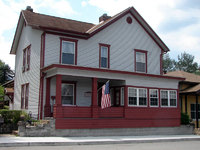 Ranging from quaint log cabins and restored farmhouses, to classic mansions and historic inns, bed-and-breakfast accommodation is on the increase, welcoming visitors to relax, rejuvenate and enjoy the warm hospitality throughout West Virginia.
The West Virginia Bed & Breakfast Association (WVBBA) consists of 53 members throughout the Mountain State, and is gearing up for another season of welcoming tourists to experience their quality accommodation following a successful 2010 promotional campaign.
The organization has become a great success throughout the state and is now promoting itself internationally.
The organisation began in 2008 at Gillum House Bed and Breakfast in Shinnston as "The B&Bs for Vets Program" when the Inn offered free lodging to members of the military in observance of Veterans Day. In 2009, nine other B&Bs joined the effort, making a total of 23 rooms available to veterans. In 2010, it developed nationwide and has today expanded to include 49 states, eight international locations and around 900 inns.
(The B&Bs for Vets program will continue in 2011 under the auspices of the Professional Association of Innkeepers International. Information about the program is available at bnbsforvets.org).
This year the WVBBA launched its own cookbook, "Inn Our West Virginia Kitchens," and is available for sale on the group's website, wvbba.com. The website was upgraded recently via a grant from the West Virginia Division of Tourism.
In 2011, in recognition of the 150th anniversary of the start of the Civil War, the WVBBA is working on a Civil War Passport for history-loving travellers. More information on the passport will be revealed in the coming months as plans are finalized.