Petplan launches the UK's biggest ever pet census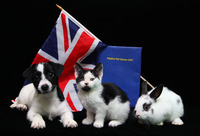 The 2011 National Census should be officially completed this Sunday - 27th March, but Petplan have been asking the nation its own set of questions. From today, they are revealing the UK's largest ever pet census – the Petplan Pet Census 2011.
Whilst Brits are already known to be a nation of animal lovers, the findings show that pets may actually play their part in a 'big society' with proof that pets make us more compassionate, happier, healthier and more sociable.
As it stands there are currently over 24 million pets in the UK - double the number of pensioners (based on an estimated 12 million people over 65 years of age)*. The Petplan Pet Census collected information from more than 10,000 pet-owners asking them about a number of topics including diet, social relations and the cost of living. The result is the most ever comprehensive body of research about pets and their owners; which can be split into four clear themes; Compassion & Relationships, Diet & Wellbeing, Purchasing and Social Behaviour. Each theme takes a detailed look into the way pets affect each part of our life.
Alison Andrew, Petplan's Head of Marketing comments: "The Petplan Pet Census demonstrates that pets play an enormous role in their owners' lives. In many cases they can have the same impact on an owner as a human influence. Despite criticism that we are an uncaring society, the fact that 23% of pet owners take compassionate leave when a pet passes, shows that pets and owners share a very close and empathetic bond."
The Petplan Pet Census 2011 is available to download online at: petplan.co.uk/petcensus to view the full results of the research.
For further information please visit: petplan.co.uk