OXO cleans up with a squeegee for every occasion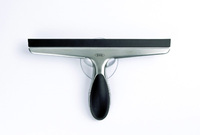 Take the strain out of your spring cleaning with OXO's versatile collection of squeegees, guaranteed to make household glass sparkle and shine.
The large, oval handle of OXO's original household squeegee nestles comfortably in the palm of your hand while the flexible silicone blade whips over flat or curved surfaces in a flash. Perfect for ensuring windows are smudge free everytime, the household squeegee also removes limescale and grime from your bathroom tiles or shower screen. Price: £8.68.
Classy cleaners are sure to love OXO's stainless steel squeegee - with its cool contemporary styling you can add a touch of glamour to those household chores. Lightweight and easy to use thanks to its low profile design, the squeegee comes with a suction cup holder so you can neatly store it away or leave it proudly out on display in the bathroom.
The brushed stainless steel finish is extremely easy to maintain unlike highly polished versions, offering classic good looks all year round. And best of all, the stainless steel squeegee is a snip at just £10.21.
OXO's mini squeegee really comes into its own when tackling small panes of glass, leaving surfaces gleaming and spot free. Its cute, compact size makes it ideal for cleaning French doors, mirrors and highly polished granite worktops, and works wonders on car windscreens and windows too. Store it in a kitchen drawer or hang it inside your cupboard door with its suction cup. Price: £4.60.
Designed to make everyday living that little bit easier, the OXO Good Grips range offers over 200 stylish, yet practical tools for the home including kitchenware, organisational tools, bathroom and cleaning products. The company has also now extended into the nursery with the launch of OXO Tot, an exciting new collection of baby equipment including essential feeding and weaning tools, highchairs and bathing products.
The OXO range is widely available from a selection of national retailers.