Scream if you're having fun in South West Germany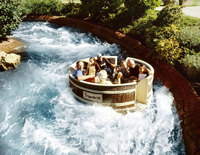 Europe's tallest roller-coaster? The world's longest rope suspension bridge? Europe's most exciting summer toboggan run? Surprise, surprise - they are all in South West Germany!
There's no better way for the kids to blow away the cobwebs of winter than in an all-action theme park or on a thrill ride. And the good news is that the season opens soon!
EUROPA-PARK (opens April 9)
4.5 million visitors cannot be wrong! That's how many thrill seekers head for Europa-Park every season. Half an hour from Freiburg, there are 100 attractions, including Silver Star, Europe's highest roller-coaster. Speeds reach 80mph and the screams are off the decibel chart.
The theme of this park is - Europe! And the names of rides reflect countries. So, the stomach-churning Euro-Mir is a spinning roller-coaster inspired by Mir, the Russian space station. Iceland is represented by Blue Fire Megacoaster powered by GAZPROM, a thrill ride that ups the adrenaline level with plenty of loops and rolls! With its recreation of an ancient temple, Poseidon is Greece's contribution - a lightning-fast water-coaster.
Set on 210 acres, there is plenty for all the family, from little ones to teenagers, with daily parades, street entertainers and even gladiatorial combat. And, you can also stay on site at luxury Mediterranean-themed hotels, including one that looks like the Coliseum in Rome! Alternatively, check into the cheerful campsites, and stay overnight in a wigwam.
NEW for 2011: Piccolo Mondo, a dark ride round Italy.
For more information, visit: europapark.de
ERLEBNISPARK TRIPSDRILL (opens April 16)
Tripsdrill is a little piece of olde worlde Germany, with a castle, half-timbered houses and lush gardens, all surrounded by vineyards. No wonder 600,000 visitors come here every year.
Just 25 miles north of Stuttgart, Tripsdrill opened in 1929, making it Germany's oldest amusement park. Among the 100 attractions is Mammut, a wooden coaster that hurtles through a saw mill at 50mph! Other nerve-jangling experiences include river rafting in a giant washtub and Europe's tallest log flume ride.
Open all year is the nearby wildlife park, where 130 animals roam free, including brown bears, fallow deer, wild horses and Arctic wolves. In special enclosures, you can get close to the deer and also feed them.
NEW for 2011: Stay the night in one of the new tree-houses in the forest.
For more information, visit: tripsdrill.de
RAVENSBURGER SPIELELAND (opens April 16)
Only eight miles from Friedrichshafen and Lake Constance, the Ravensburg amusement park provides fun and games for all the family, especially little ones. Youngsters love bull-riding at the rodeo, alpine river rafting or tobogganing. Kids hunt for treasure in a gold mine; dig with real diggers at the Fix & Foxi digger pit.
NEW for 2011: The MobileKids driving school, where young learner drivers take the wheel of a snazzy Mercedes-Benz SLK. It's a great way to learn road safety.
For more information, visit: spieleland.de
For more information on SouthWest Germany and its highlights like the Black Forest and Heidelberg, visit: tourism-bw.com