Have a thrilling summer in Serre Chevalier Vallée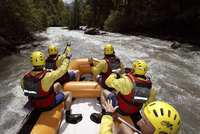 There's an action-packed mix of exciting ways to spend your summer holiday in Serre Chevalier Vallée - a beautiful and vast ski resort that claims an average of 300 days of sunshine a year and which lies at the gateway to the Southern French Alps.
With summer coming, now is the time to plan a healthy and active holiday for all the family, including grans and grandpas - walking, cycling, fishing - and white water sports for the brave!
White water activities
Just follow the 28km Guisane River which starts at the Col du Lautaret and follows the Serre Chevalier Valley. No steep-sided gorges or raging torrents but take care; with all its placid and calm appeal this is still an Alpine river which flows fast and strong with 300m drops at the Guibertes rapids and waves at Villeneuve la Salle. This is a great place for an introduction to white water rafting or for those needing a refresher course.
Climbing and mountaineering
Plenty of mountain routes, from grade 3 - 7, make very interesting climbing. This high mountain environment on the edge of the Ecrins National Park surrounds the valley and is popular with mountaineers. Ailefroide, in the Vallouise Valley, is France's second most popular mountaineering destination and explored by many great adventurers. You'll be surrounded by golden eagles, marmots, ibex and chamois. For hikers and walkers, 370km of paths across the Massif des Ecrins are featured in Cartoguide, a valuable guidebook available from the Tourist Office. Professional mountain guides and equipment are available locally.
Cycling
Whether mountain or road cycling, the Guisane Valley offers a rich selection of marked trails and paths which lead through extensive forests and rugged Alpine pastures. 24 tracks up to 2,550m; two free service stations; French Federation of Cycling recognised for easy to hard rides. Discover MBT Planet, a unique pass covering five resorts. Road cyclists have a big choice from small winding roads to great balcony routes including some of the most famous climbs and descents.
Fishing
The crystalline purity of the water in the Guisane River is home to many species and fishermen will be well rewarded. Lakes, which can be found above 1800m, are often glacial in origin and fed by mountain streams. Permits are required and professional fishing guides are available.
Ask at the Tourist Office about the Pass Partout Smartcard which allows 20% discount off all bookable activities; can be shared with friends and family and has two-year validity. Just keep reloading your credit.
Accommodation-only prices with Erna Low start at £78.00 pppw for four sharing a one-bedroom, self-catering apartment departing 25 June to £85.00 pppw for 10 sharing a four-bedroom, self-catering duplex apartment departing 30 July. Drive time from Calais is around 8.5 hours and the nearest airports are Turin, Grenoble and Lyon; direct rail to Briançon.
For more information and bookings, visit: ernalow.co.uk