New marina to open in Rhodes this summer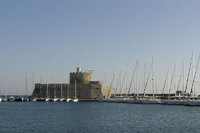 A new state-of-the-art marina is opening in Rhodes this summer.
The €100 million (£87 million) investment is situated on the east side of Rhodes Town and will be open to both yacht owners and visitors.
Currently the island only has one yacht harbour, usually crowded with local and charter yachts, which makes the long-awaited new marina a welcome addition.
Rhodes' new marina will serve as a five-star tourist attraction with the ability to host more than 400 crafts, including the largest new mega yachts. On-shore facilities will include VIP suites, a conference centre, a bank, shops, restaurants, cafés, a gym, a spa with swimming pool, green areas and a beautifully landscaped promenade along the marina's main pier.
The complex will also offer shipyard maintenance services, as well as access to high speed broadband and triple play services including Internet, IP telephony and IPTV.
The marina is scheduled to open in June and will be fully operational in 2012. It is expected to attract 20,000 visitors per season from the yachts only.
The development will contribute to the overall regeneration of the area. Current projects in Rhodes include a new ring road that will connect the marina to the island's International Airport (already 70 per cent completed), while discussions are currently taking place for a shopping centre and a five-star hotel in the immediate proximity to the new marina.
For more information about the island of Rhodes, visit: rodosisland.gr