Extra place up for grabs at UK GT Academy national finals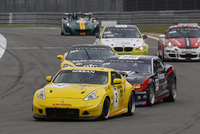 Nissan and Sony Computer Entertainment UK (SCE UK) are offering an exclusive, additional chance to join online gamers in the National Finals of the 2011 GT Academy, an innovative competition in which PlayStation3 (PS3)users battle in an online time trial to win the ultimate gamer's prize – a race seat in Nissan's muscular 370Z for the Dubai 24 Hours.
Anyone with access to a PS3 with online capability and a copy of Gran Turismo5 can take part in the GT Academy, but the 'Wild Card' slot offered by Nissan and SCE UK provides an additional route to the National Finals, to be held in May.
Competitors are invited to enter the 'Wild Card' contest, hosted at the Nissan Innovation Station at The O2, by registering at nissangtawildcard.co.uk for an entry slot between 10am and 8pm on either 1st, 2nd, or 3rd April, when they will complete a time trial using PS3 race pods.
Each entrant's quickest lap of three will be recorded, with the best drivers from each of the three days winning a Logitech Driving Force GTsteering wheel, the official wheel of Gran Turismo, which features force feedback and 900-degree wheel rotation. The best time overall across the three days will win the extra place at the National Finals.
The inaugural GT Academy, in 2008, was won by Spanish student Lucas Ordoñez, who was recently named as a member of Nissan's Le Mans 24 Hours prototype sports car programme.
At the National Finals, participants will take part in a series of Gran Turismo 5 gaming heats. Additional non-gaming challenges that the National Finalists face will be unveiled in due course.
Two UK National Final victors will advance to the International Finals, to be held at Silverstone in June, when competitors will take to the track in Nissan's 3.7-litre, 323bhp 370Z models.
Paul Willcox, Nissan Motor GB's Managing Director, said: "Lucas, our 2008 GTA winner, is living proof that virtual driving skills can be transferred to real-world racing. This year, we are adding this special opportunity for one talented gamer to join the UK's best in the National race to turn the dream of a motor sport career into reality."
David Wilson, Head of PR for Sony Computer Entertainment UK, said: "The ambition of Sony Computer Entertainment was to make a game that gives players the ultimate driving simulation experience. The GT Academy partnership with Nissan is the realisation of this ambition, setting Gran Turismo 5 gamers the ultimate challenge on PlayStation 3. The success of previous winners Lucas Ordoñez and Jordan Tresson demonstrates that GT Academy has grown into a credible route into motor sport."
The Nissan Innovation Station at The O2 is a free exhibition which features driving simulators, a virtual car design programme and interactive games that show visitors of all ages how electric vehicles can change the way people will drive and live in the future.