Let the kids climb the walls this Easter!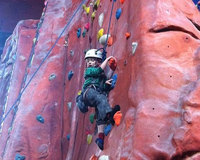 As an alternative to the kids climbing the walls at home this Easter, families can bring them to The School of Rock at Awesome Walls, Stockport and let them climb the huge walls there instead.
Plus, from Monday 11 to Friday 15 April, those looking after the kids can enjoy a complimentary head, neck and shoulder massage from professional masseuse Kirsty Whyte (habitualfitness.co.uk) at the centre. This is the perfect way to unwind and relax while the kids enjoy themselves.
The School of Rock is a fun climbing session, which combines expert advice and support from fully qualified friendly instructors, who are all CRB checked, with loads of running, jumping and fun to let off some steam.
The kids can climb on the lower bouldering walls without ropes and then advance to the higher walls and learn the rope techniques. There are 23.5m of walls and Awesome Walls, Stockport is the highest indoor climbing centre in England so there are plenty of challenges for those with a real head for heights.
Dave Douglas from Awesome Walls said: "The School of Rock is a fantastic way for kids to have fun and learn some new skills at the same time. The complimentary massages are a little treat for the parents and those bringing the kids to the sessions as a way to distress during what can be a hectic time looking after the kids during the school holidays."
The School of Rock sessions run from 10am to 11.30am Monday to Friday during the Easter holidays and cost £9 per session. Booking is essential.
For those bringing the kids there is also free wi-fi access, hot and cold refreshments and a seating area. Or, if they are feeling adventurous and want a go at climbing themselves, this can easily be arranged.
The School of Rock is also available during term time on Tuesdays and Thursday from 4.30pm to 6pm. There are also Awesome Walls Climbing Centres in Liverpool and Stoke-on-Trent that both run The School of Rock.
More details can be found at: awesomewalls.co.uk