Lynch expands and goes for Volvo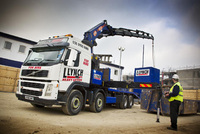 Construction and plant hire specialists L. Lynch have added a pair of Volvo FM 8x2 rigids with cranes to their 450-strong fleet as part of a strategic expansion of their plant hire and haulage operations.
L. Lynch Plant Hire was formed in 1980 and is based in Stanmore Middlesex, where they have since grown to become a leading name in the plant hire industry, running the entire gamut of construction and plant hire machinery on their fleet.
Already operating over 50 Volvos, L Lynch (Plant Hire & Haulage) Ltd. are responding to demand from their customers who need increased crane capacity and cabin movements. To this end, they have equipped their new FM11-370 chassis with high capacity cranes - 45 tonnes and 65 tonnes - and with Sterling beaver tail bodies for cabin movement work.
Their largest cranes have an impressive 12.8t lifting capacity at 4.5mtrs and fully extend to over 15mtrs.
The trucks were supplied by Volvo Truck and Bus Centre London, Hayes.
Operations Director, Merrill Lynch observed, "As part of this expansion we also decided to go for more Volvos to avoid the reliability issues we've had with another marque. A key factor in the purchase decision was Volvo's fuel efficiency at Euro 5."
Transport Manager Keith Talbot added, "Every year, we spend heavily to renew fleet that is more than three years old and we choose premium marques for our clients to get the very best performance on site."
The two new FMs have been on the road for two months. Keith added, "Even so, we are already very pleased with the fuel returns. The drivers like them too, particularly the I-Shift automated boxes, so we're all happy."