Clean sweep for the Citroen DS3 WRCs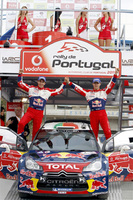 A year after scoring their first victory in the FIA World Rally Championship in Portugal, Sébastien Ogier and Julien Ingrassia made it two wins in two attempts at the Algarve-based event. After driving the perfect race, the Citroen Total World Rally Team's DS3 WRCs scored the first one-two of their fledgling career, with second-placed Sébastien Loeb and Daniel Elena now level with Mikko Hirvonen for the lead in the drivers' world title chase.
The Citroen Total World Rally Team started the third and final day of Rally Portugal with a lead of more than four minutes over its rivals, and controlled the end of the race.
Beyond consolidating the expected double of the Citroen DS3 WRCs, the aim of the last day was to score a few additional points in the final power stage. Petter Solberg led for a long time, but finally it was Sébastien Loeb who set the fastest time. Second-placed Jari-Matti Latvala and Sébastien Ogier in third were unable to knock seven-time World Champion, Loeb, off his perch.
When the Citroen Total World Rally returned to the Estadio Algarve, they celebrated a clean sweep and Ogier's third victory in the world championship.
Ogier was congratulated by the whole team and shared his joy: "It's been a perfect weekend. We controlled our first day well and then we pushed at the right moment. It's a telling result for the whole team, with the double and the points in the Power Stage. After six months without a win, I was starting to get a bit edgy. I hope it's the start of a good series. The points we've bagged today will help us re-launch our championship challenge after our disappointment in Rally Mexico. I'd like to thank the team for all their hard work. I'm as happy for them as I am for myself!"
Sébastien Loeb finished second and scored 20 points this weekend, thanks to his bonus in the last stage. This means that he now sits on equal points in the Drivers' World Championship with Mikko Hirvonen: "Our victory hopes were dashed yesterday when we lost 30 seconds in the dust thrown up by Mikko's car," Seb reported. "Second was the best we could hope for. I knew it wouldn't be easy to score the three bonus points in the Power Stage - but we did! It's a positive result for us and for the whole team. These points will be very precious, as the championship looks like being a very closely-fought one."
Frédéric Banzet, Citroen's General Manager, was present with the team during the rally and he expressed his delight when he congratulated his crews: "I remember a young driver who was over the moon when he won his first rally here a year ago. This year, Sébastien Ogier has taken on a whole new dimension with this magnificent victory. Sébastien Loeb, who was unlucky with the rally conditions, has helped the Citroen DS3 WRC to score its first double. Bravo to the whole team. We hope this one-two finish will be the first of many!"