Chrysler official car supplier for Gorby80 birthday gala concert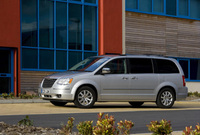 The grace, luxury and style of Chrysler vehicles will be on display to the world tonight (30 March) when a fleet of 300C saloons and Grand Voyager people carriers act as official transport for a unique gala concert in central London.
Former Soviet leader Mikhail Gorbachev, who celebrated his 80th birthday on 2 March this year, is marking the occasion with family and friends, at the exclusive Gorby80 party at the Royal Albert Hall.
The event will mark Nobel Peace Prize winner Mr Gorbachev's historic achievements while celebrating the inaugural "Mikhail Gorbachev: The Man Who Changed the World" awards. This new honour will be awarded annually to individuals whose contribution to the development of global civilization, culture, social science and technology has changed the world for the better.
Hosted by film stars Sharon Stone and Kevin Spacey, the gala night will be available to watch on TV in 49 countries. And it will draw much attention – as well as an exclusive guest list, famous artists from around the globe will perform in a series of duets live on stage at the gala night.
The London Symphony Orchestra, with conductor Valeriy Gergiev, will accompany unique duets and joint performances from some of the world's best loved performers, including: Paul Anka, Bryan Ferry, Dmitri Khvorostovskiy, Dame Shirley Bassey, Katherine Jenkins, Melanie C, "The Scorpions", Andrey Gavrilov, Lara Fabian, Andrey Makarevich and "Machina Vremeni", Milla Jovovich and Igor Krutoy.
Five Chrysler 300C luxury saloons and 10 Voyager MPVs will be seen bringing VIP guests to the event, carrying on the Fiat Group's long tradition of supporting the Nobel Peace Foundation.
"To be the official car supplier to this exclusive event is a proud moment for us," says Nigel Land, director, Chrysler and Jeep in the UK. "Fiat Group has long been a supporter of the Foundation and, following the recent alliance with Chrysler Group, we are honoured to be able to contribute our stunning fleet of vehicles to tomorrow night's event."
The Chrysler Grand Voyager is the world's best-selling MPV and has proved a great success story in the UK for more than 20 years. It is currently available in LX, Limited and Touring specification, with prices starting at £27,495 OTR. The all-new Chrysler 300C will be launched in the UK early in 2012.