Kate & Will's commemorative Royal Wedding sliding doors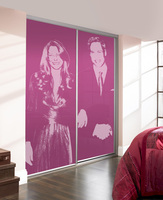 Forget commemorative tea towels, mugs, plates and coins - they're so Charles and Di. For this year's Royal Wedding, die-hard memorabilia collectors can have Kate and William on their sliding wardrobe doors! One of the UK's leading retailers of made-to-measure sliding door systems spaceslide.co.uk is offering a Limited Edition Royal Wedding Sliding Door System, that's available from now until the big day.
The doors feature Kate and William's photo image on glass panels, which come in a range of colours, including pink and blue. There is also a choice of colour and finish of frames, including white, silver and wood effect.
The commemorative sliding door system is available in Spaceslide's Galaxy and Titan range and is made-to-measure. Prices start at £448 for a 600 x 1200 double door Galaxy system with glass panels.
Comment from Jon Gough, managing director of Spaceslide: What gave you the idea?
"While this is a fun and novel idea, with our own manufacturing facilities in Walsall we do have the capability to take on special commissions. Royal weddings of this scale excite the public. We experienced Charles' and Di's wedding in the eighties and the memorabilia madness that went with that. We predict that the UK will thoroughly embrace opportunities to decorate their homes this time round. But times have moved on and consumers today will be looking for something a little bit different from the usual trinkets of the past." Do you think they will sell?
"There are a lot of dedicated Royalists in the UK and of course British design is very on-trend at the moment, so we do think they will appeal. We think they will mostly appeal to those who have a good sense of humour, keen design style and want something a little bit different." Get an instant quote and buy online at spaceslide.co.uk.
Ends About Spaceslide Spaceslide.co.uk is one of the UK's largest online stores for made-to-measure sliding wardrobe door systems and wardrobe storage solutions, which customers can order online and get delivered to their door.
As an innovator in the sliding door market, Spaceslide is constantly offering exciting new products: Latest looks for sliding wardrobe door systems (more than 100 designs from classic plains to funky patterns and textures) Room dividers Clever Storage Solutions - internals and display shelving units Internal glass doors Spaceslide's web-based Design & Quote system provides instant quotes and easy order process. Alternatively, customers can place an order by telephone on 0800 980 3499.
It supports customers throughout the online buying process with step by step guides to measuring, product design advice, a free sample service and provides detailed self-assembly instructions (including videos); and its price match promise across the entire range ensures value for money and all products come with a ten year guarantee, as well as being produced to the highest industry quality standards (BS & FIRA). Fitting can be arranged in areas local to its two factory showrooms in Walsall and Hemel Hempstead.