Lightweight Fiby tipper wins prestigious JEC Innovation award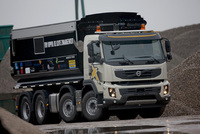 This week the Fiby composite tipper won the 'Innovation' award in the Transport category at the JEC Composites Show in Paris. The Fiby - developed late last year especially for the construction segment - is built on a conventional Volvo FMX 8x4 chassis. By using light composite materials, the combination has a far greater loading capacity compared to a conventional steel or aluminium construction truck. Furthermore its use of composites results in lower fuel consumption and an ability to retain heat in a much more efficient way.
The Fiby was developed by a syndicate of Dutch companies under the leadership of Martin Luinstra managing director of Roelofs Kipperbouw BV. The tipper body is mounted on a Volvo FMX 420hp 8x4 chassis, making it far lighter, more energy efficient and quieter than a truck with a metal tipper body.
"In the long term the Fiby will be able to replace the current metal tipper in many applications," declares Martin Luinstra, adding "One of the greatest advantages of the Fiby is that its payload can be increased by two tonnes, when compared to steel body. In addition - because of the composite material from Dutch company TenCate - the inner layers can withstand temperatures in excess of 180OC. When empty, the truck can also save around 12 per cent in fuel, when compared to a metal-bodied tipper, thus reducing pollution."