Volvo Trucks launches online video series 'Welcome to my cab'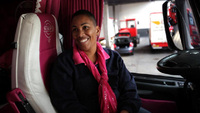 Volvo Trucks' online video series 'Welcome to my cab' puts the truck driver in focus by inviting viewers into the cabs of drivers around the world.
"The driver plays a central role in our customers' drive to generate profitability. Creating an environment that the driver appreciates is thus one of our main tasks when we develop new trucks. This series of films is a simple and enjoyable way of putting the driver in focus," says Tommy Kohle, Senior Vice President Corporate Communications.
First up in the new online video series is Dutch driver Dagmar Klink with her distinctive Volvo FH, known as the 'Pink Lady'. In the short film, Dagmar Klink takes us on a tour of her truck, whose distinctive look truly stands out from the crowd out on the road.
"I used to hate the colour pink because it is always associated with women," she says. "But when I got my own truck, I wanted everyone to know that it was a woman's truck to make people realise that women can be truck drivers too. So I decided to choose a woman's colour."
"It is a big honour to be in the first 'Welcome to my cab' video," Dagmar Klink says. "I hope lots of people see it so they know it's possible for women to be truck drivers. We need more female truck drivers"
The films will be available on YouTube, via Volvo Trucks' online magazine and on the company's new iPad Magazine.