Mosquito Head UK launches Drama Queen Collection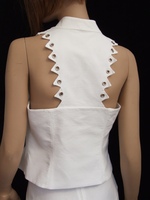 UK fashion designer, Mosquito Head UK, has launched the first items in her new collection on the Fashion Killerz website.
Entitled Drama Queen, all the items in the collection are made from recycled cotton theatre drapes and include 60's style dresses, mini skirts and waistcoats.
Mosquito Head said: "I believe it's important to recycle as much as possible and often call into the Worcester Resource Exchange (WRE), which collects clean and safe waste from a range of local industries and businesses, to see if they have any items that I can utilise. I discovered the fabrics - in white, black and kingfisher blue – and having thoroughly washed them, started giving them a new lease of life. As well as fabrics, WRE also has haberdashery items which I've used in some of my garments, and even my mannequin was heading for landfill until I came to her rescue."
As well as her Drama Queen collection, which Mosquito Head will be regularly adding to in the coming weeks – she personally designs and constructs each garment individually – you can also find many more of her items on Fashion Killerz. These include a range of retro-style flower power dresses, and a number of unique one-off designs which are listed for sale alongside items added by other talented designers.
Fashion Killerz offers a platform for new and independent fashion designers, jewellery and accessories designers to showcase and sell their creations in a convenient online location – fashionkillerz.com. It currently includes womenswear, menswear, jewellery, headwear, swimwear, and handbags. It's a great place to shop if you want a change from the High Street fashion offerings.