Capture the summer solstice in magical Iceland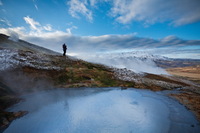 Wild Photography Holidays are an innovative UK/Iceland based travel company, specializing in small-group photography holidays to wild and inaccessible places.
This late June Iceland departure to the Eastern Fjords offers:
10 Stellar Ways to Celebrate the Summer Solstice in the Land of the Midnight Sun:
* Experience two spectacular flights across Iceland
* Capture kaleidoscopic geothermal phenomena
* Focus on Lake Myvatn's unrivalled bird life
* Hop into a 4x4 for a memorable ride through breathtaking mountain scenery
* View nesting puffins in the Eastern Fjords
* Relax in Iceland's newest geothermal spa pool
* Photograph in the midnight sun
* Enjoy close ups of Iceland's most jaw-dropping waterfalls including Dettifoss
* Eat bread baked in the lava
* Visit one of Iceland's prettiest fishing villages
Iceland: Flowers, Birds and Landscapes of the Eastern Fjords
This summer solstice photographic holiday ensures hours of magical ambient light with endless sunrises and sunsets allowing maximum time behind the lens to capture some memorable images. The winter snows in the lowlands will have melted allowing an exceptional opportunity to photograph landscape, plant and bird life against a backdrop of snow streaked mountains, fjords, serene fishing villages, magnificent waterfalls and colourful geothermal areas. The remote locations are accessed by sturdy 4×4 transport ensuring that all participants will have an equal opportunity to take fine images each day regardless of their fitness levels. The accommodation is in comfortable local guesthouses permitting a fascinating insight into rural Icelandic life. Partners of photographers will be welcomed. Photography tutor Martin Sammtleben will work throughout enabling participants to return home with a unique Iceland portfolio. Lightroom tutorials from beginner to advanced will be offered allowing participants the chance to develop their images to a high standard.
This holiday departs 16th June 2011 and is for 11 days. The cost is £2,185 per person, which includes all accommodation, in country transport, most meals, transfers to and from domestic airports, two flights across Iceland, the services of a guide, a photographic tutor and admission to the Myvatn Nature Baths. International Flights are not included. Wild Photography Holiday's owner/ operations manager Geraldine Westrupp commented, ''Iceland is a very happening place for modern landscape photography, quite often the terrain here does not conform to idealized images of a beautiful landscape, it stretches the imagination, the outcome is often a portfolio of 'out of the ordinary' and very unusual images"
Special Offer
Wild Photography Holidays are offering a 90 pounds discount per person for two people booking together and sharing a room.
For more information and bookings, visit: wildphotographyholidays.com