Adnams go for Volvo, little and large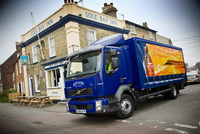 Premier Suffolk brewers Adnams have taken four new Volvos on to their fleet, choosing three FL 16-tonners and an FH tractor for their latest fleet replacement. The FH-460 6x2 artic will join the trunking fleet and the FL-240s will take on the urban work in London.
Speaking from the Adnams' Southwold HQ, Supply Chain Manager Kevin Wells explained, "We usually replace between three to five trucks a year. With business picking up, it was time to renew and we looked to Volvo who we hope will provide the best long-term solution, particularly on the environmental front."
The three FL 16-tonners are fitted with Adnams regular curtain side dray bodies by Colliers of Maldon and they will be based at Adnams' Barking site in East London. Two will take standard manual gearboxes and the other will use the Volvo I-Sync automated 'box. Kevin Wells will be running a back-to-back trial which will decide future purchases.