Peugeot helps London van drivers avoid LEZ fines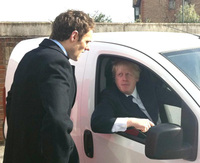 The Mayor of London, Boris Johnson, announced plans earlier this week to help clean up air quality in the London area by extending the London Low Emission Zone (LEZ) to include certain vans which are not Euro 3 compliant.
As from 3rd January 2012, large vans with an unladen weight from 1,205 kg up to a gross vehicle weight of 3,500 kg, registered before 1st January 2002, and not meeting Euro 3 emission standards, will be charged £100 per day to enter the London Low Emission Zone.
To help encourage owners to replace their older vehicles the Department of Transport for London (TfL) has identified and mailed 54,000 van owners who regularly enter the low emission zone, to provide details of special sales incentives available to purchase a new van and avoid the impending LEZ entry charges.
To help these owners, Peugeot is providing all registered owners who are mailed by TfL a range of "Cashback" offers to reduce the cost of purchasing a new more environmentally efficient Peugeot van. These offers are additional to all existing offers on the class leading range of Peugeot vans. Further details can be obtained from a local Peugeot dealer.
£500 Cashback on the Peugeot Bipper van
£750 Cashback on the Peugeot Partner van
£1500 Cashback on the Peugeot Expert Van
£2,000 Cashback on the Peugeot Boxer Van
Payments will only be made to customers who have been mailed by TfL and all vans must be registered before 31st March 2012.