Peugeot hits the CV show running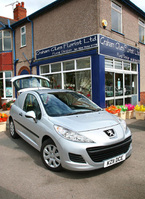 Peugeot will have a distinct spring in its step at the Commercial Vehicle Show as its LCVs return a bumper crop of March sales; up 27.7% on 2010, taking a 7.48% share of the market, itself up by 25%.
From Bipper to Boxer, Peugeot's range of easy-to-drive and highly economical small to large vans is proving a hit as the Company takes its place in the LCV sector's top sellers.
The 207 van, with its refined, comfortable car-like driving manners, is the UK's third best selling micro-van for the first quarter. Both the sprightly Bipper and its slightly larger sibling, the Partner, feature in the top 6 best selling compact vans for the year to date. The first quarter also sees the spacious and practical Boxer maintain its position as the UK's second best selling van in the K2 (2.6t to 3.25t) LCV segment and fourth in the longer wheelbase K4 (3.5t to 5) class.
As well as top selling standard vans, Peugeot is fast forging a strong reputation for its converted vehicle and specialist vehicle range, from forensic support vehicles, ambulances and taxis, to tippers and drop sides. A range of these vehicles will also be found on the Peugeot stand, number 4D80 in Hall 4, at the Commercial Vehicle Show.
The Peugeot display at this year's Commercial Vehicle Show, which runs from Tuesday 12 to Thursday 14 April, includes a Red Kite Boxer Minibus Conversion, a Boxer Tipper Conversion, an Expert Sport van, an electric Allied ePartner, a Royal Mail Bipper van, as well as standard vans.
At the heart of the appeal of Peugeot's vans are their highly fuel-efficient HDi engines, which help keep running costs down at a time when fuel costs are a worry for many businesses. They are also among the cleanest, thanks to Peugeot's HDi engine technology, with the entire range well within average fleet CO2 emissions targets for 2014. In fact, the smaller Peugeot vans already comply with longer term targets set to be deployed in 2020.