City & Country Group's 'Buyers Gallery'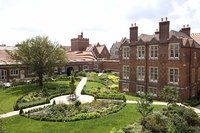 As The Galleries, City & Country Group's stunning converted hospital in Brentwood, transformed into a sought-after range of luxury homes, continues to prove popular with a wide range of homebuyers, five years after its initial launch; the award-winning developer has taken a closer look into the different types of people who have bought there, in its very own Buyers Gallery.
Glamorous Brentwood socialites
Brentwood has its own breed of young twenty-something socialites, including reality TV stars and footballers, with the glamour of Brentwood life having recently been made famous with reality television show The Only Way is Essex. The Galleries enviable location, within easy reach of some of the town's nightlife hotspots and its diverse array of boutique shops, makes the development particularly popular.
Many of this purchaser type have grown up in the local area, and are hitting the age when they are starting to look for their own stylish pad, from which to enjoy the luxurious lifestyle that Essex has to offer. Homes are being snapped up at The Galleries by many of this purchaser type, looking for a property with the 'wow factor', perfect for complementing their exciting lifestyle.
City slickers
The Galleries is ideally located in the London commuter belt, with Brentwood Railway Station offering direct services into London Liverpool Street, taking just 35 minutes. This fast commute makes the town a popular location for City slickers, who are looking to enjoy the benefits of glorious Essex countryside, whilst still being able to commute into the City to maintain their day job.
The Galleries has seen over half of its sales come from commuters who work in the City, most of whom work long hours as Traders, Brokers or Solicitors, looking for a luxury home to return to at the end of a hard days work.
Local professionals
Brentwood's local services are essential to its population of almost 45,000*. The Galleries has seen several purchasers who work in local services, including a doctor, nurse and teacher, buy a property at the development; many of whom have attributed this to its popular location in Warley. The Galleries is set in a small green oasis on the outskirts of bustling Brentwood, with many properties overlooking green fields and woodland. A short five-minute stroll brings you to the heart of Brentwood, where many of the main shops and businesses are located.
City & Country Group makes securing a beautiful home with a difference possible, with a range of properties available at The Galleries, and bespoke incentive packages also offered.
Baby boomers
From baby boomers to golden agers, many active retirees' are opting to sell up and downsizing to properties where they can get on with enjoying life. City & Country Group has seen almost a fifth of sales come from downsizers at The Galleries, who are looking to lead healthier and more active lives in a buzzy living environment. Residents at The Galleries also benefit from partially gated, beautifully landscaped courtyard gardens that all residents can enjoy, without any of the upkeep. With a security entrance system, residents also have total peace of mind that their property is safe at all times, particularly those who spend part of the year in holiday homes and travelling abroad.
Helen Moore, Managing Director at City & Country Residential, comments: "The Galleries has been one of our most sophisticated and sensitive conversions yet and has appealed to a number of different purchasers, ranging in age from early twenty's to late sixty's. The gated, beautifully landscaped courtyard gardens, coupled with the remarkable living spaces on offer, explain the popularity of the development so far. Later this year we will extend the range of properties available still further with the launch of our brand new apartments for those wishing for all the convenience of a brand new home, but still in a wonderful historic setting."
The distinctive Grade II Listed Victorian Buildings at The Galleries have been converted into a collection of 100 high quality apartments and unique homes. Each has had a bespoke kitchen designed and includes a range of integrated stainless steel appliances and the bathrooms incorporate white sanitaryware and chrome fittings. Throughout the properties, top quality flooring has been provided including 100% wool carpets, ceramic floor tiles and either engineered oak boards or restored original floorboards and parquet.
Prices at The Galleries start from £168,000 for a one bedroom apartment, £325,000 for a two bedroom apartment, £465,000 for a three bedroom apartment and £499,950 for a two bedroom duplex. For those keen to find out more about purchasing a property at The Galleries, or to register interest for one of the brand new apartments, the on-site sales suite is open daily between 10am and 5pm.