Bywaters enters innovative partnership with Volvo Trucks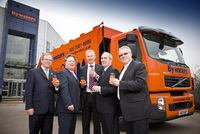 As London and south-east England's premier recycling company, Bywaters has a long respected reputation for developing and implementing tailor-made, innovative solutions to the capital's and the region's need to increase the amount of materials that are recycled and reused.
To that end, the Bywaters based in Bow and Leyton, which operates a 15,000 square metre Materials Recycling Facility (MRF) capable of handling 130,000 tonnes a year, has entered into a unique partnership with Volvo Trucks and Volvo Dealer, Volvo Truck and Bus Centre London.
The partnership involves not only the supply and maintenance of 52 specialist Volvo FL, FE and FM recycling vehicles, a mix of hookloaders, Refuse Collection Vehicles (RCV) and skip loaders, but also the implementation of a close working relationship over the 5-year term of the contract to ensure that vehicle uptime is maximised and emissions minimised.
Volvo won the business in a competitive situation with other manufacturers helped by the innovative nature of their Total Offer which includes funding provided by Volvo Financial Services and a Volvo Gold Repair & Maintenance contract on the trucks.
Integral to the innovative package on which Bywaters and Volvo are working, Volvo Truck and Bus Centre London will also be responsible for the maintenance of the Incomol and Multilift bodywork on the trucks on a Preventive Maintenance contract. The work will be carried out at their Barking Dealerpoint to reduce empty running and emissions.
The delivery of the 52 trucks heralds a comprehensive upgrade of the Bywaters fleet to Euro-5 emissions standards and Bywaters customers will benefit from the quieter operation and reduced emissions of the new vehicles.
As part of the partnership arrangement, Bywaters with their continual programme of innovation and improvement are excited about operating a Volvo FE Hybrid RCV, described by Director Mike Pusey as a 'cutting edge solution' to the issues of noise and vehicle emissions. An announcement is expected later this year.
In addition, Bywaters drivers will benefit from the provision of Volvo Truck and Bus Centre London's vehicle familiarisation training as the hours accrued attending the 52 new vehicle handovers and commissioning qualifies towards the Driver CPC.
Bywaters Business Support Director Helen Glover said of the partnership with Volvo: "By working so closely with Volvo over the coming years, we hope to build on and implement a quality platform for the ongoing development of our services to London and the south-east".
Bywaters Strategic Development Manager David Rumble said "Our materials recovery rate for recycling is currently 98%. The efficiencies generated by the new Volvo fleet should help increase our tonnage throughput and as a consequence, our overall recovery rate while reducing noise and emissions for our customers and the streets of London."