Ford Transit Connect high mileage hero at CV Show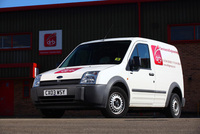 It's not just new vans on Ford's CV Show stand (Hall 4, stand 4C20) this year, there's also a 2003 Ford Transit Connect with 220,000 miles on the clock.
Aside from the monster mileage, this Ford Transit Connect is almost entirely original. Apart from following the regular servicing schedule, the biggest item that's been changed in the eight-year life of the Connect T200 1.8 TDCi has been the alternator.
The van is still in regular use by Deeside engineering firm DRB Power Transmission Ltd. "DRB has always bought Ford vehicles," says transport manager Richard Wheatley. "We have tried other marques but they've never come up to the same standards. When the Ford Transit Connect came out it was ideal - the right capacity for the loads we carry, sturdy and also the right size for getting into the tighter places we work in."
The company uses Ford Transit Connect models either for permanent allocation to a single engineer for site visits or as a pool vehicle for use by fitters and welders.
All are serviced by M53 Ford at Birkenhead and Ellesmere Port. "The service the dealerships give us is second to none," says Richard. "They follow the regular service schedule but also look for other required work - they go one step further. It may sound more expensive if they're finding extra fixes, but it means the van is only off the road once which in the long run saves us time and money."
The Connect 'hero' on the stand isn't a one-off either. "We aim to keep the vans for about 200,000 miles each, but we have got a few vans with higher mileage," says Richard.