Ford Ranger pick-up - tough, powerful, frugal, smart and safe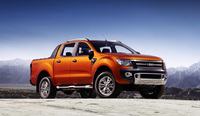 The exciting all-new Ford Ranger pick-up enters the stage on the Ford stand at the Commercial Vehicle Show in Birmingham, UK, ahead of its European sales launch later in 2011.
New from the ground up – with everything changed except its name –the Ranger has been engineered to combine the model's traditional strength and durability with increased loading capability, improved performance and economy, enhanced comfort and safety, smarter technology and a tough new look.
The all-new Ranger is the first commercial vehicle to be built under the One Ford strategy as part of a global product programme, bringing together the full engineering expertise of Ford around the world. Developed in Australia, it will be produced in Thailand, South Africa and Argentina for sale in more than 180 markets worldwide.
Outstanding range of versatile, capable pick-ups
New Ranger will be offered as a complete family of pick-up models with a choice of three versatile cab body styles – Single Cab, RAP (Rear Access Panel) Cab and Double Cab – along with the option of 4x2 and 4x4 drivetrains, two ride heights and up to five series choices to suit every pocket and market.
European customers will have a choice of two new state-of-the-art Ford Duratorq TDCi diesels which deliver improved power, torque and fuel efficiency: 2.2-litre (150PS and 375Nm) and 3.2-litre (200PS and 470Nm).
Building on Ranger's long-standing reputation for strength and dependability, the all-new model offers an outstanding depth of capability. A larger load box offers increased carrying volume with all cab styles; generous towing capacity ranging up to a best-in-class 3350 kg; and models with the 2.2-litre diesel have an outstanding payload capacity of up to 1333 kg.
Improved comfort, technology and safety
The all-new Ford Ranger is just as much at home on a leisure trip as it is delivering goods to a construction site, and the new model redefines the level of comfort, technology and safety that customers can expect from a hard-working pick-up.
A completely redesigned cabin offers generous space and superb craftsmanship, and is packed with the kind of smart technologies which are more commonly found on contemporary passenger cars. These range from features like satellite navigation, Bluetooth®connectivity and voice control, to the Rear View Camera System with a display integrated in the rear view mirror which is unique in the pick-up class.
With its incredibly strong high-strength steel passenger cell structure and advanced restraint systems – including new side curtain airbags and thorax-protecting front-seat side airbags fitted as standard across all cab styles in Europe – the all-new Ranger has been engineered to deliver class-leading safety performance.
The new model also utilises a whole suite of technologies to enhance active safety, including features like Hill Launch Assist, Hill Descent Control, and a carefully tuned Electronic Stability Program (ESP) system to help the vehicle keep its wheels sturdily planted on the road under all conditions.
Built tough, for total dependability
Built to last, the all-new Ranger has undergone one of the toughest development and testing regimes ever undertaken for a vehicle of this type.
Tested in Australia, Dubai, Thailand, North America, South America, Sweden and South Africa, it had to face severe heat and cold, monsoon rains, high altitudes as well as rushing rivers, arid deserts and potholed roads. Prototypes clocked more than a million kilometres on the road, supported by countless hours of exhaustive testing in laboratories.
Combine this hard-earned dependability with the new model's impressive fuel economy, and the Ranger offers European customers a highly competitive package with attractive lifetime ownership values.
"Since it was introduced to Europe in 1997, the Ford Ranger has established itself as a major player in the European pick-up segment," said Jesus Alonso, Ford of Europe's director for Commercial Vehicle Marketing, Sales and Service. "This all-new model will reinforce the reputation of the Ranger brand with its bold new appearance, improved depth of capability for hard working businesses, and new levels of comfort, technology and safety. And with a significantly improved fuel economy this new vehicle offers both low cost of ownership and sustainability benefits. We are starting a new chapter in the Ranger success story."