Zero-emission Ford Transit Connect Electric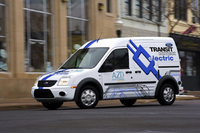 Ford and Azure Dynamics Corporation (TSX: AZD) demonstrate further their global commitment to a comprehensive vehicle electrification programme by showcasing the zero-emission Transit Connect Electric van at the 2011 Birmingham Commercial Vehicle Show.
The Transit Connect Electric shortly will go on sale, as Ford's first electric vehicle to be made available in Europe, and is also one of several electric Ford vehicles currently on test in the UK.
Five electrified Ford vehicles, including a Focus Electric, C-MAX Hybrid and the C-MAX Energi plug-in hybrid, will be introduced in Europe and North America by 2013.
"By providing a variety of electrified vehicles, we are making it easier for our customers to embrace this fuel-saving technology," said Bill Ford, executive chairman, Ford Motor Company. "This strategy is true to our heritage of making innovative technology available to as many people as possible and to our vision of developing great products, building a strong business and contributing to a better world."
Zero emissions
The Transit Connect Electric Van is a pure electric-powered version of the award-winning, long-wheelbase Transit Connect light commercial vehicle.
Developed in conjunction with Ford's electric vehicles partner Azure Dynamics, Transit Connect Electric has a proprietary Force Drive battery electric drive train powered by an advanced battery pack from Johnson Controls-Saft.
"Transit Connect Electric was designed and engineered with fleet customers in mind, especially for those seeking sustainable mobility solutions," said Scott Harrison, Azure CEO. "Its quiet, clean and efficient Force DriveTM powertrain excels under the types of urban driving conditions that the Transit Connect Electric is likely to encounter during urban delivery routes."
With 28kWh of power to call on, Transit Connect Electric has a top speed of 75mph (120km/h) and a range of up to 130 km/80 miles. Its lithium-ion battery pack is charged with a standard power outlet. Fully charging the batteries using standard European 230-volt outlets can be completed in approximately 8 hours.
Practical and affordable
Transit Connect Electric van will offer European operators the opportunity to eliminate conventional fuel bills in their small vans and help to lower overall running costs.
Ford's Transit Connect commercial platform is an ideal choice for battery electric power thanks to its true combination of car-like driving dynamics, generous cargo capacity, easy accessibility and low operation costs.
With a cargo volume of 3.8 m3 and a payload of 500kg, Transit Connect Electric van will particularly appeal to fleet operators who travel predictable, short-range routes with frequent stop and go driving.
Tried and tested
The zero-emission, pure electric-powered version of the award-winning Transit Connect light commercial vehicle goes on sale in European markets this summer following its successful launch in North America in December 2010. 'Glider' units - complete vehicles except for the powertrain - will be shipped from the Ford Otosan manufacturing facility in Kocaeli, Turkey, directly to an Azure-contracted manufacturing location in the UK for final assembly.
The completed Transit Connect Electric van then will be sold by Azure Dynamics through a specially-created network of dealerships. The European Transit Connect Electric will be badged with both the Ford Blue Oval and Azure's Force Drive logo, like its North American sibling. Further details and pricing for the Transit Connect Electric, which will be available in right- and left-hand drive configuration, will be released closer to launch.
Force Drive components have previously been deployed in more than 40 vehicle integrations and have more than 35 million miles of on-the-road experience. Transit Connect Electric will offer fleet owners the opportunity to eliminate the use of petrol and help to reduce operating costs.
A fleet of Transit Connect Electric test units is currently on test with the "Ultra-Low Carbon Vehicle Demonstrator" (ULCVD) program in the UK.Based in the London Borough of Hillingdon, a consortium of Ford, Scottish and Southern Energy and the University of Strathclyde has been providing Transit Connect Electric vans and a charging infrastructure for the ULCVD since 2010. The vehicles are in use by both the energy company and a number of evaluation drivers based in the area starting 2011, testing the technology's suitability for potential future application in Ford's European passenger car range. This BEV demonstration fleet is being created partly with public funding from the UK Government's Technology Strategy Board (TSB), which promotes innovative industry-led projects that reduce CO2.
A first European fleet customer has already signed the orders: On March 22, 2011, Post Norway ordered a first batch of 20 Transit Connect Electric vans to support sustainable goods transport in their day-to-day business. "Together with Azure we are currently in contact with a considerable number of European fleets who are interested in setting up tenders for the Transit Connect Electric van," explained Jesus Alonso, Ford of Europe's director, Commercial Vehicle Marketing, Sales and Service. "We look forward to seeing Azure Dynamics deliver vehicles to a significant number of European fleet operators during the course of this year."
"Transit Connect Electric exemplifies how we are leveraging our relationships as well as our hybrid and advanced powertrain programs to bring energy-efficient technologies from the laboratory to the street," said Derrick Kuzak, Ford group vice president, Global Product Development. "Not only is this an ideal vehicle for eco-conscious fleet operators, it is an important part of Ford's future."