If you go down to the Slovakian woods today . . .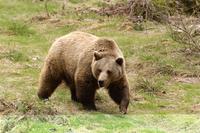 Families Worldwide is inviting families with a sense of adventure the opportunity to join a unique 'reccee' trip to spot bears in Slovakia (min. age 14). The trip 'A walk in the woods' departs on 29 May.
It is very much an experimental and exploratory recce; some of the walking will be quite tough in places and you'll have to be prepared for flexibility in the itinerary in the quest to see bears in the wild. The High Tatras offer great hiking, plus they are home to a large proportion of Europe's brown bear population.
The trip has been arranged in conjunction with the High Tatras National Park Authority to provide a rare opportunity to go looking for bears on foot.
The holiday costs from £795 pp (two sharing) which includes 7 nights' accommodation, some meals (7 breakfasts, 3 lunches and 3 dinners), guided activities and a tour leader. Flights not included.
For more information, visit: familiesworldwide.co.uk