Ryanair celebrates the start of summer at Stansted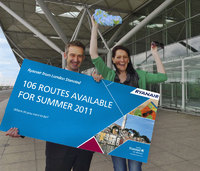 Ryanair today celebrated the launch of its summer schedule for 2011 at London Stansted.

Ryanair's Stansted summer schedule offers 107 destinations, including summer sun Greek routes for the first time with low fares now available to Corfu, Rhodes and Thessaloniki.

To celebrate Ryanair released 1million £8 seats for travel on Tuesdays, Wednesdays and Thursdays in May & June. These "all in" low fares will be available on over 1,000 of Ryanair's European routes but must be booked on ryanair.com before midnight (24:00hrs) Thursday 14th April.

Ryanair's £8 Seat Sale includes all taxes and charges so passengers who choose to avoid discretionary fees by paying for Ryanair's cheapest flights with MasterCard Prepaid, travel with carry on luggage only and decline our priority boarding service can book, check-in online and fly for this advertised £8 fare on these seat sale flights.

Ryanair's Laura McCormack said:

"Ryanair is delighted to celebrate the launch of the summer season at London Stansted Airport. Top destinations for summer 2011 include the newly announced routes to Corfu, Rhodes, Thessaloniki and Rijeka (Croatia) which are on sale today.

Only Ryanair sells Europe's lowest fares with a no fuel surcharge guarantee. In addition to our lowest fares we also deliver Europe's No1 on-time performance across over 1,200 routes. From midnight tonight, passengers can book these £8 seats for travel on over 1,000 European destinations in May and June. These seats can only be booked until midnight (24:00hrs) Thursday (14th April) and are sure to be snapped up fast so we urge passengers to book them on ryanair.com before they sell out."

Airline, Route and Marketing Manager at London Stansted Airport, Paul Haynes commented:

"Summer is an exciting time at London Stansted, especially when new destinations join our route network. The Ryanair flight sale will be exciting news for anyone still waiting to book their Summer getaway and we'd take this opportunity to wish Ryanair a very successful Summer season at Stansted".