Huktra replace entire fleet with Volvos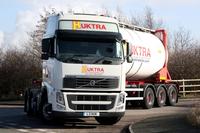 International logistics company Huktra has replaced its entire fleet of tankers with Volvo FH-460s.
The replacement vehicles were specified with 460 bhp, and come complete with I-Shift automated transmission, Dynafleet and ADR Spec with discharge equipment fitted.
The Cheshire-based firm, which specialises in the transportation of chemicals and liquids, has been running another marque for the past 14 years, but began searching the market for a new fleet in 2009, with Huktra's drivers test-driving vehicles from a number of manufacturers for a week at a time.
"The majority of our drivers have been with the company for a considerable period of time, so it was vital that they were involved in the selection process," said Dave Carson, Operations Manager for Huktra.
Huktra plumped for the Volvos following fantastic feedback from their drivers, who were particularly impressed with the I-Shift gearbox.
All of the drivers rated the Volvo over the other marques – just on the gearbox alone!" continued Dave. "We wanted to switch to an automatic gearbox to ease wear and tear, but always had problems of 'surging' when using automatic gearboxes in the past – where the movement of liquids in tanks causes the automatic gearbox to select the wrong gear. However, the I-Shift works a treat."
And it wasn't just the I-Shift gearbox that impressed. Dave continues, "We've also seen our MPG rise from 7½ to 8 – that's over a 6% increase. Our new vehicles are also Euro 5 to meet LEZ legislations."
Jonathon Roche, Customer Solutions Manager for Thomas Hardie Commercials, said, "We hope this is the beginning of a long and fruitful business partnership. Going forward, we will look to support Huktra in every way we can."
The vehicles will be serviced and maintained at Thomas Hardie Commercials in Knowsley and Trafford Park, under a four-year gold maintenance contract.