Arsenal players create life-size artwork in aid of Centrepoint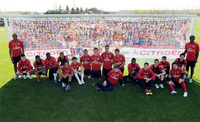 Arsenal's first team have unveiled a unique life-size piece of artwork that players helped create using radio-controlled cars as their paintbrushes.
Revealed in a goalmouth at the Club's Hertfordshire training ground, the image depicts a goal celebration created with Club partner Citroën - using radio-controlled models of the New C4. Part of Arsenal's 'Be A Gooner. Be A Giver.' initiative, the artwork was commissioned in aid of Centrepoint - London's largest youth homeless charity and Arsenal's Charity of the Season 2010/11. The original artwork will be auctioned at Arsenal's Annual Charity Ball next month.
Artist Ian Cook of Popbangcolour began painting the piece at the Emirates Stadium during Arsenal's dedicated matchday for Centrepoint against Fulham in December 2010. The 3 metre x 1.5 metre artwork continued at Arsenal's Training Centre with the help of Gael Clichy, Laurent Koscielny and Wojciech Szczesny, assisted by two young people who are helped by the charity.
Cook commented: "It's great to see the final piece sitting in the goal. It's taken over 50 hours to create, which all started at the Emirates back in December last year. I think all three players enjoyed playing with the Citroën radio-controlled cars and hopefully they are as proud of the finished piece as I am. I've got my fingers crossed this will raise lots of money for Centrepoint."
Gael Clichy, who visited Centrepoint's hostel in central London at Christmas time to meet the young people with whom the charity works, added: "This is the second time I've been part of a very unique art project with Arsenal and Citroën for its Charity of the Season initiative. It's a bit creative, it raises money and you are able to do something a little different with the young people who are the most important part of the Club's partnership."
This initiative forms part of Arsenal's season-long 'Be A Gooner. Be A Giver.' campaign. The Gunners aim to raise £500,000 to create a state-of-the-art service in a refurbished building in Soho, which will help homeless young people across London to develop the essential life skills to get back on their feet and stay off the streets permanently.
Centrepoint hostels are located across London and range from night shelters for emergencies; to hostels for short stays; to long-term supported flats; and centres with facilities for learning on-site. These services mean a place that homeless young people can call home and they provide over 290,000 nights' accommodation to homeless young people every year. However, some of the buildings are in drastic need of redevelopment - they need refurbishing, expanding, modernising and a fresh lick of paint.