A 'nice smile' tops list of most important physical features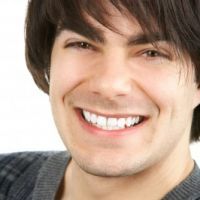 A poll has shown that a nice smile is the most important physical feature for people looking for a partner.

The survey showed that 56 percent of participants regarded a nice smile as an important feature when it comes to attraction between men and women. Personality came out as the outright winner, over all physical features; 90 percent of participants rated a good personality as the most important human attribute.

A smile was closely followed by a person's face and eyes; features including body shape, hair and height were considered less important.

The results of the survey have been published in tandem with the upcoming launch of the National Smile Month campaign, which is run by the British Dental Health Foundation. The campaign will run from the 15th May to the 15th June. The results of the survey will be used to encourage people to take care of their teeth and gums and adopt a good oral hygiene routine; the survey suggests that a nice smile is a very attractive feature and can be instrumental in a successful personal and professional life.

However Dental phobia is a serious condition that affects a large proportion of the population that does not regularly see a dentist. Many people are so fearful or anxious about visiting the dentist that they let their oral health suffer as a result. Dentists report that anxious patients often have problems with their gums, with infection and chronic gum disease being commonplace amongst anxious patients.

Dentalphobia.co.uk's sister site Cosmeticdentistryguide.co.uk is ambitiously attempting to run the largest online poll in the UK analysing the reasons why fear of the dentist remains one of the biggest problems in dentistry. With over 200,000 visitors per month to the website the polls to be conducted over a 6-month period will provide dental experts and commentators with a much better understanding of the reasons, and will be breaking the results down into regions of the UK to better study the fears of the UK public.

The Dental Experts group of websites offer a free, user-friendly and objective resource that is dedicated to telling the consumer exactly what they need to know. Covering every subject and phobia that a patient could consider, the free advice given by the panel of 29 experts throughout the country is an invaluable help to more than 200,000 visitors to the websites each month. Simply put; No more contradictory facts and commentaries you can't trust.