Subaru offers new car finance options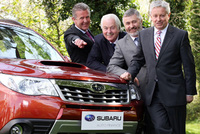 Subaru Ireland partners with Ireland's newest auto finance company to create the much-welcomed product, Subaru Auto Finance.
First Auto Finance Ireland Ltd, Ireland's newest motor finance provider, has announced the creation of a relationship with Subaru Ireland to provide financial support to motorists buying new and used cars from the Subaru Dealership network. The announcement was made at the Subaru Ireland Dealer conference, Crowne Plaza, Dublin Airport, on Tuesday 12th April 2011.
Commenting on the announcement Neville Matthews, Managing Director of Subaru Ireland said, "With our premium range of diesel All-Wheel-Drive cars, all that was missing was a finance offering such as Subaru Auto Finance. We are extremely pleased that our customers can avail of our competitive finance options, to assist with their purchase."