Volvo FH-440 - the best-selling heavy truck in Brazil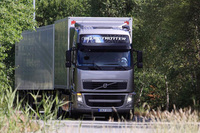 In 2010, and for the second year in a row, the Volvo FH-440 6x2 has been the 'most sold' heavy truck in Brazil.
The achievement also resulted in Volvo do Brasil being presented with the Lotus award, which is given to the best-selling vehicles in the country.
"The market recognises the high quality of our trucks", says Roger Alm, President of Volvo do Brasil. "The customers value the low fuel consumption, high performance and high level of availability, which are the main attributes of the FH-440 6x2."
The information about the best-selling heavy truck is based on statistics from Anfavea (National Association of Manufacturers of Automotive Vehicles), which monitors the total Brazil vehicle market.
All in all, Volvo Trucks sold 6,526 units of the FH-440 6x2 in 2011, which was an increase by 66 percent in comparison to the year before.