Volvo FL 12-tonner improves customer relations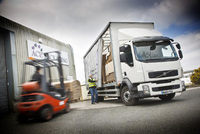 A new Volvo 12-tonne GVW FL curtain-side bodied rigid supplied recently to Ace Packaging of Plympton, Devon, is already benefiting customer relations. "Up until the time we took delivery of our new Volvo we had always relied upon the services of a contract hire company for all our transport needs," explained Ace's Production Manager John Davis.
However, having their own truck with a company driver as a member of the team, means that Ace Packaging is now able to offer a better service to its customers. "Some of our deliveries are to premises that are awkward or tricky to access," continued Davis, "But with the excellent manoeuvrability of the Volvo and the willingness of our own driver to make that extra bit of effort when it comes to unloading, our customers are experiencing direct benefits."
Previous experience of the Volvo product encouraged the Ace production manager to recommend the Volvo FL to Managing Director, Susan Loffstadt. Consequently local Dealer, Truck and Bus Wales & West submitted their proposals and eventually won the business.
"We are now monitoring our overheads and by doing so feel confident that we will reduce our running costs," commented John Davis.
"Early indications are that these will be significantly lower than using a contract hire vehicle and we already have the advantage of better relationships with our customers. This was an unexpected, but hugely important bonus," he concluded.
The Ace Packaging Volvo FL 12-tonner will be serviced at the local Volvo Truck Dealerpoint located in Plymouth.