Head to the Alps for great value family summer holidays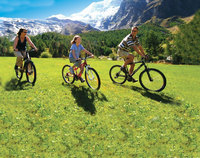 The best value holidays are not on the Med and not in `non-Eurozone' destinations, but up in the Alps where the air is fresh, the sun beats down and where family activities include hiking, rafting, biking, pony trekking and where there are great value chalet hotel holidays for just £170pp.

Esprit Family Adventures specialize in family holidays to the French and Swiss Alps, with optional organised kids' and teen clubs for babies from 4 months and kids up to 15 years old, and a raft of active family pursuits in resorts.

2nd & 9th July, 7 nights, French Alps, from £170pp
For Alpine fresh air, towering mountains and active pursuits, but not a grain of sand in sight, Esprit Holidays has 7 night, fully catered summer holidays in the French Alpine resort of Alpe d'Huez for £170pp per person, based on a family of four sharing at the Chalet Hotel Mariandre from 2nd July, including breakfast, packed lunch, five course evening meals (6 nights) with wine and soft drinks, and ice lollies and soft drinks for kids all day long. A week's stay for a family of four costs £679, ie. £170pp, (was £836, saving £157), and a week's stay for a family of three costs just £579, ie. £193pp (was £862, saving £283).
The same holiday departing on 9th July costs £669 for a family of three, ie. £223pp (was £941, saving £272) and £779, ie. £195pp for a family of four (was £915, saving £136).

Price excludes Rail Europe travel by train to Grenoble (via Paris), self-drive through France, or flights to Grenoble (40 minutes from the resort), Chambery (85 miles) or Lyon (90 miles).

2nd & 9th July, 7 nights, French Alps, from £170pp
Esprit Holidays is offering a 7 night stay in Chalet Hotel Deux Domaines in the French Alpine resort of Belle Plagne for £599 for a family of three, ie. £200pp (was £816, saving £217) £699 for a family of four ie. £175pp, (was £975, saving £276) for a family of 4. The price includes full board accommodation with breakfast, packed lunch, five course evening meals (6 nights) with wine / soft drinks, free lollies and soft drinks for kids as well as optional alpine activities such as horse riding, pony trekking, canoeing, walking, hiking and Esprit's nurseries, kids and teen clubs for children 4 months to 15 years.

The same holiday departing on 9th July costs £689 for a family of three, ie. £230pp (was £987, saving £198) and £799, ie. £200pp for a family of four (was £1035, saving £236).

Price excludes Rail Europe travel by train to Grenoble (via Paris), self-drive through France, or flights to Grenoble (40 minutes from the resort), Chambery (85 miles) or Lyon (90 miles).

For more information and bookings, visit: espritfamilyadventures.com