Citroen voted 'MPV Maker of the Year'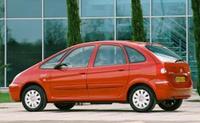 Citroen has just been voted 'MPV Maker of the Year' by the authoritative "4x4 & MPV Driver" magazine in their 2006 Awards, further strengthening the Company's status as the MPV manufacturer of choice for the Great British public.
In a market sector that accounted for almost 288,000 vehicle registrations last year (over 10% of all car sales), Citroen sold a total of almost 50,000 Xsara Picasso, Berlingo Multispace and C8 models and, at the same time, consolidated its position as the most popular manufacturer of people carriers to private buyers.
Explaining their decision, the Magazine stated: "Citroen have achieved their position by merging affordability with honest products that meet the motoring demands of an increasingly discerning and shrewd customer. In short, Citroen have led the way in producing cars that people want to buy at prices they simply can't ignore."
The Xsara Picasso remains by far the most popular choice for family buyers looking for practical space to carry their children in safety and style. Indeed, despite offerings from Vauxhall (GM), VW and Ford – respectively the world's, Europe's and the UK's largest car companies – Citroen's compact MPV remains the people's number one choice.
Not only did the Berlingo Multispace create a whole new segment, but it continues to be the most popular choice in the sector - with more than double the number of buyers of its nearest competitor. And for those looking for big space and creature comforts to boot, the C8's technology laden, family-appealing ultra-safe status makes it hard to ignore in a hugely competitive sector.