The Oberoi, Gurgaon - A new era for luxury travel in India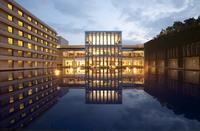 The Oberoi Group today announced the opening of The Oberoi, Gurgaon now one of India's most luxurious city hotels. The hotel is located in the business and shopping hub of Gurgaon in the New Delhi, National Capital Region. The hotel exemplifies the group's architectural and design philosophy for city hotels.
"We are pleased to present The Oberoi, Gurgaon, a hotel that offers the highest standards of luxury and hospitality. The opening is a significant moment for us. A number of Oberoi hotels have been consistently recognised as the best in the world. I am confident that The Oberoi, Gurgaon will continue this tradition" said Mr. P.R.S. Oberoi, Chairman, The Oberoi Group. Speaking on the hotel's design philosophy, Mr. P.R.S. Oberoi added, "The Oberoi, Gurgaon redefines the city hotel experience with a design philosophy of height, light and space."
Mr. Kapil Chopra, Senior Vice President, Oberoi Hotels & Resorts added, "with the opening of The Oberoi, Gurgaon we want to offer discerning business and leisure travellers an oasis of tranquility with service which is warm, caring and personalised."
Located 15 minutes from the International Airport, The Oberoi, Gurgaon has an abundance of space with reflection pools and landscaped gardens. In keeping with the group's pioneering tradition, the hotel offers many 'firsts' for India, a few of which include three suites with 17 or 22 meter private heated swimming pools, the city's first 24-hour spa, cigar lounge and the most spacious accommodation in any city hotel – from 620 square feet, each. The Oberoi, Gurgaon's 'service without compromise' includes the hotel's Rolls Royce and BMW 7 series limousines, 24-hour butler service for each guest and Clefs d'Or concierge service. each are amongst the largest rooms in any city hotel around the world.
A room at The Oberoi, Gurgaon costs from £315 (plus taxes). Alternatively, Cox & Kings (coxandkings.co.uk) is offering a five night stay at The Oberoi, Gurgaon, from £1,295 per person on a bed and breakfast basis, including Jet Airways flights from London, private airport transfers.