Discover your sixth sense in Vietnam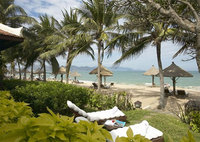 Luxury Travel Ltd in Vietnam has unveiled a new upscale travel experience for discerning travellers.
In colonial times, the islands of Con Dao (also known as Poulo Condore) were much feared, as a notorious French prison was located on Con Son, the largest island of this remote southern archipelago.
Many of Vietnam's most famous freedom fighters served time on this lonely, windswept island, which lies 185 km south east of the port city of Vung Tau.
Today, the archipelago's residents survive by fishing, diving for pearls and farming. Visitors will find starkly beautiful cliffs, long, untouched beaches, and patches of thick forest. Sea turtles lay their eggs on the islands' remote beaches, while dolphins live offshore.
Just 60 minutes flight from Ho Chi Minh City, Con Dao offers the perfect escape from modern life. Clients also can visit Con Dao Island by ship from Vung Tau beach or by charter helicopter.
Six Senses (sixsenses.com) recently announced a new property in Con Dao, and Luxury Travel Vietnam is taking bookings now. Only a 60-minute flight from Ho Chi Minh City, Six Senses Con Dao opened in December 2010.
This secluded island hideaway in the East Sea is a hedonist's dream of 40 luxury villas on a truly idyllic stretch of white beach, each with its own private infinity pool, open-air bathroom and living area, and unobstructed views of the sea.
Like fellow Six Senses properties, it's more than just a luxury beach holiday, Con Dao offers an outstanding range of spa journeys and wellness activities. Here you can enjoy a moonlit dinner for two at the water's edge, take a private cookery class in your own villa, hike in search of the local wildlife, stay up late to watch turtles nesting on the beach...or simply lie back, relax and draw breath amidst the natural beauty of this Vietnamese paradise.
Unlike some other concept hotels, Con Dao truly embraces its surroundings - each villa is built with materials from sustainable sources (mirroring the ethos of the brand), while providing the most breath-taking view of the island. From catamaran sailing to cookery, from diving to dining, Con Dao is a cool hideaway for all ages, tastes and sensibilities.
Luxury Travel has a four day luxury vacation package from Saigon to Con Dao, inclusive of three nights at Six Senses Con Dao with daily breakfast, all transfers, pick up and drop off services, taxes and return air tickets for only 1075 USD per person.
When to go:
The best time to travel to the south-eastern coast of Vietnam is December through to April during dry season. Summer time from May to September is a good time to rest and relax but expect some tropical rain.
For more information and bookings, visit: luxurytravelvietnam.com