Award-winning designer's collection on show in Birmingham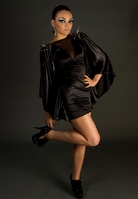 One of the Midland's hottest new fashion designers will be showcasing her new collection at Foto Moda's Fashion Show in Birmingham on 29 April. The show takes place at Bliss Bar on Broad Street, with doors opening at 7.10pm and an after show party kicking off at 10.30pm.
As the winner of the Best Designer award at Foto Moda's inaugural fashion show in December last year, Paulinah Eboh-Sampson's designs promise to be the highlight of the catwalk show. Her creations, under her label Dancing Dolls, will feature alongside those of 15 talented designers in the West Midlands.
The show also features live entertainment, including dancers and pyrotechnics. A make-up competition – in which 15 local make-up artists will be given just 20 minutes to recreate a specific look live on stage – will also take place live on stage. The winner will be announced at the end of the night.
From Birmingham, 29-year-old Paulinah's womenswear brand specialises in smart, casual attire and swimwear using the best lycra and jersey fabrics, all handmade in the UK. Currently in its second season, Dancing Dolls is just launching its Autumn/Winter 2011 collection - 'The Beautiful Ugly' which will be modelled at the show.
Describing the collection, Paulinah said: "The Beautiful Ugly was inspired primarily by voodoo dolls and the voodoo culture with subliminal messages of S&M and slavery. It features unfinished raw edges, grafitti blemished garments with heavily studded and spiked adornments which combine to create a captivating and memorable collection.
"It's a collaboration between myself, Dark Art Airbrushing and Jesika Parmar 'Funky Jewells', and centres on deconstructed and juxtapositoned pieces in fabrications of signature luxury jersey, silk and lace all within a palette of petrol blue, warm cream, deep red wine and midnight black."
A selection of Dancing Dolls garments are currently available for sale at extremely reasonable prices at fashionkillerz.com, a recently launched website that is dedicated to selling items created by independent designers. It currently features womenswear, menswear, jewellery, handbags and other fashion accessories; many of which are sold exclusively through the website.
Tickets for the Foto Moda event can be purchased from fotomoda.eventbrite.com.